Standardization developments for large scale biobanks in smoking related diseases - a model system for blood sample processing and storage
Translational Respiratory Medicine
2013
1:14
Received: 19 June 2013
Accepted: 7 August 2013
Published: 30 August 2013
Abstract
Background
Biobank samples stored in biobanks give researchers and respiratory healthcare institutions access to datasets of analytes valuable for both diagnostic and research practices. The usefulness of these samples in clinical decision-making is highly dependent on their quality and integrity. New procedures that better preserve sample integrity and reduce degradation are being developed to meet the needs of both present and future biobanking. Hereby we present an automatic sample workflow scheme that is designed to handle high numbers of blood samples.
Methods
Blood fractions are aliquoted, heat sealed using novel technology, and stored in 384 tube high-density sample arrays.
Results
The newly developed 384 biobank rack system is especially suited for preserving identical small aliquots. We provide data on robotic processing of clinical samples at −80°C, following initial processing, analysis and shipping between laboratories throughout Europe. Subsequent to unpacking, re-sorting, and storage at these sites, the samples have been returned for analysis. Biomarker analysis of 13 common tests in the clinical chemistry unit of the hospital provides evidence of qualitative and stable logistics using the 384-sample tube system.
Conclusions
This technology development allows rapid access to a given sample in the frozen archive while maintaining individual sample integrity with sample tube confinement and quality management.
Keywords
BiobankBiomarkersStandardizationRoboticsRespiratory diseases
Background
The future of biomedical sciences will be driven by the ability to adopt novel technologies, generating large data sets of data, to understand disease and to develop new treatments. This is especially relevant to diseases such as lung cancer (LC) and chronic obstructive pulmonary diseases (COPD), responsible for high mortality and cost to the European health care system. Cancer, and especially lung cancer, as well as chronic obstructive pulmonary disease (COPD) are leading causes of smoking related mortality worldwide. Overall, a therapeutic plateau has been reached with conventional anti-cancer treatment strategies such as cytotoxic agents, radiotherapy and surgery. Given the still dismal survival rates, attention in recent years has focused on novel molecular targeted therapies with different mechanisms of action and better toxicity profiles. Accordingly, there is a clinical need to: (i) identify biomarkers that can help recognize patients that respond to these therapies, (ii) detect tumor resistance, (iii) and predict the efficacy of targeted drugs cost-effectively. COPD is a progressive debilitating disease that often is not diagnosed before extensive tissue destruction has occurred. Prevalence rates of COPD vary across EU, ranging from 4 to 10% with an overall rate of respiratory symptoms between 45-65% across EU. Currently COPD is under-diagnosed and is associated with co-morbidity and risk for that increase the burden on the healthcare system, hospitalization costs and mortality. By implementing early detection, personalized treatment and evaluation of response to treatment both Lung Cancer and COPD have led to improved prognosis and reduced cost to the healthcare system. These smoking related respiratory diseases are multifactorial. Meaning that not a single molecule is related to one disease or clinical complaint, but rather to hundreds of molecules that are interconnected or pathway related in addition to protein complex formed. There is therefore a need for selecting from multiple read-out signals. However, this is hampered by the lack of tools and data for early diagnosis. One new direction that is proving to be a winning concept is the modeling of disease progression and evaluation of treatment responses.
Biobanking is gaining momentum with an increasing number of valuable patient samples linked with clinical information that are being stored in biobanks around the word [1, 2]. The advancement in clinical research where high quality samples are utilized in research has increased significantly in the recent decade, but especially in the last years [3–10]. The targeted treatments with Personalized Medicines are becoming the new generation of drugs with high specificity and safety. In the developments of these new drugs, high quality patient samples are mandatory, where standardized Biobank resources will play a major role [4, 11]. It has resulted in interest to share data, facilitated by biorepositories of specimens that is linked to health care information, where a lot of effort is given to meet the governance challenges of Biobank archives now and in the future [12] . Sample integrity is a real challenge, but also a mandatory requirement for any patient read out. In addition, life science clinical research material needs to use standard procedures, optimized protocols and processing cycle times, which are key aspects of work flows to consider [13, 14]. Protein and molecular degradation is a well-known phenomenon that is directly related to sample handling procedures, where sample temperature, preparation times and sample preparation procedures are some variables that will be directly related to sample stability [15, 16]. This is especially important when samples are stored frozen in 5–12 ml tubes, thawed and collected for analysis and then re-frozen again for future use. When this procedure is repeated multiple times, the composition of the original sample state is irreversibly changed. This gives rise to changes in absolute amounts of analytes that is not related to, e.g., the disease state of the patient sample. Processing times of blood might vary in-between some hours to 24 and 36 hours. The read-outs from samples that have been exposed to these extended processing times will vary. This is particularly critical to RNA analysis, metabolomics quantitation as well as protein expression analysis.
The processing protocols were worked out and reported in large-scale studies, such as the UK Biobank (http://www.ukbiobank.ac.uk/) and LifeGene (https://www.lifegene.se/). Keeping an absolute control of patient sampling, standardized procedures, validated sample handling protocols and electronic surveillance of the sample life cycle ranging from the needle in the arm of the patient to the automated storage handling at −80°C will provide the basis for high quality biobanks [2, 14, 17]. New technology is changing a lot of the way that standard procedure in hospitals is performed. Sample degradation and sample losses due to evaporation along with cot effective sample archiving are among the long-standing issues that are most important in order to keep high quality of samples for long periods.
By the implementation of e-health logistics, efficient data storage and use, allows a data history to be established where the patient treatments are linked to the decision making of the physician, providing healthcare improvements [18]. A novel technology that relate to biomarkers and clinical status of the patients, is a great resource that utilizes blood samples as a major biofluid resource. Blood sample storages nowadays range from large national efforts into smaller development labs where the biospecimen collections are used as biobank assets, searching for healthcare solutions [19, 20].
The value that large scale biobanks provide paves the way for new areas that opens up the opportunities such as drug discovery, stem cell research and genetic research [21–23]. This study presents novel developments that improve the existing biobanking systems.
Methods
Materials and instruments
Matrix storage tubes and seals, 0.1 mL 384 2D tubes (Thermo Scientific 384 well 2D coded storage tubes part 3815, MA, USA). In the sealing experiments we used a WellMate dispenser (Thermo Scientific, MA, USA), a small bore tubing cartridge (Thermo Scientific, MA, USA). A 384 rack heat sealer (ALPS3000 Thermo Scientific, MA, USA), the Heat 20 μm sealing foil (Easypierce, Thermo Scientific, MA, USA), the PTFE Type K couples TM Electronics (RS 409–4908, Thermo Scientific, MA, USA), 8 channel USB data logger, and Picotech picolog software (Pico technologies USBTC08). A Hamilton STAR Liquid Handling Platform (Hamilton, Reno, NV) was employed for automated aliquoting of blood samples. CO-RE 480 standard volume tips (300 μL) with filters and CO-RE 480 standard volume tips (1000 μL) without filters were purchased from Hamilton (Bonaduz, Switzerland). The variable temperature heat sealer instrument (ALPS™ 50 V, Thermo Scientific, MA) was used for sealing 384-tubes with Easy Pierce 20 μm heat-sealing tape (AB-1720, Lot No: 115895) (Thermo Fisher Scientific, MA). For registration of aliquots a VisionMate® scanner was used (Thermo Fisher Scientific, MA). Nautilus LIMS (Thermo Fisher Scientific, MA) was used throughout the entire study.
Blood samples
Blood samples were provided by healthy volunteers at the Skåne University Hospital, Malmö, Sweden. Samples were collected in the morning after breakfast intake. 10 mL blood was sampled repeatedly in primary tubes. EDTA sample types were centrifuged for 10 minutes at 10,000 rpm, which is the standard procedure at the hospital. 70-μL aliquots were dispensed into 384-rack tubes (volume of 100 μL). These samples tubes were stored at −80°C throughout the entire study, and on dry ice upon transportation.
The collection of blood samples was approved by the ethical board at Lund University (approval number: LU 532–03).
Biomarker analysis
All analyses were performed by experienced clinical chemistry staff at the Department of Clinical Chemistry, Skåne University Hospital, Malmö, Sweden. The laboratory is accredited by SWEDAC (Swedish Board for Accreditation and Conformity Assessment). The following tests were run using standard methods from Roche: α1-antitrypsin, ALAT (alanine aminotransferase), albumin, apoA (apolipoprotein A1), creatinine, CRP, cystatin C, estradiol, Fe, ferritin, bile acid, glucose, fibrinogen, haptoglobin, HCG, IgA, IgG, IgM, K, Mg, Na, EPK, LPK, TPK, TSH, total protein. All samples were analyzed on a Cobas 8000 modular analyzer from Roche (Basel, Switzerland).
Results and discussion
As the sample volume requirements are steadily decreasing within the clinical chemistry departments in hospitals around the world, blood sample handling from patients becomes a critical part in the healthcare logistics. We recently presented a 384 high density solution [17] that is currently being implemented as an efficient and cheap solution to Biobank archiving in clinical hospitals. The 384-rack is confined with a hard polymeric frame where the tubes (384) are mounted. Manual or robotic picking and sorting can be made for all of the tubes within the 384 biobank sample plate (10). The plates and foils have been pre-tested for the used conditions to make sure that there is no release of, e.g., plastifiers to contaminate the samples.
Here we provide standardization and stability data on the development of 384 Biobank sample systems, including an entire cycle of blood plasma samples that were processed and sealed in the hospital in Malmö, Sweden. The samples were stored at −80°C, transported throughout Europe to Lichtenstein, processed by −80°C robotics and shipped back to the hospital in Malmö, as outlined in Figure
1
.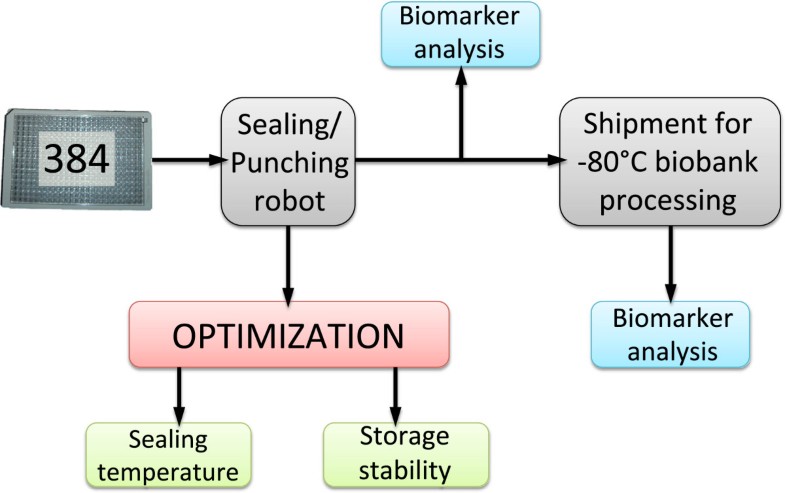 Conclusions
The current manuscript is of major relevance to the diagnostic respiratory field as it outlines the standardization and qualitative aspects of blood sample processing in large-scale biobanking.
Biobanks are dependent upon effective sample processing and stable long-term low temperature storage systems. New methods for providing conditions of stable storage are currently being developed. Automatic robotic systems will be an essential component for the success of standardization procedures that speak to the preservation of sample integrity. This will be especially needed in studies of large number patient cohorts where samples are collected and processed in multitudes of laboratories at national and global levels of study. High cost that is associated with investments in robotic instrumentation is a challenge in a high quality driven healthcare society. Large scale processing on the other hand puts extremely high demands on manual sample handling and is close to impossible. As ultra-low temperatures demands for increased power consumptions, the lower temperatures also brings another challenge along that might be a disadvantage and that is huge temperature alterations upon power cuts or other electronic problems that ultimately will change the temperature of the sample.
In addition to their usefulness in clinical decision making, stable biobanked samples are also of importance to drug development, biomarker identification, sentinel studies of health and disease in society in both academic and regulatory settings [24].
Declarations
Acknowledgements
This work was supported by grants from the Swedish Academy of Pharmaceutical Sciences, C-HPP (HUPO), Swedish Research Council, the Swedish Foundation for Strategic Research (SSF, TOTAL AMI), Vinnova, Ingabritt & Arne Lundbergs forskningsstiftelse, Fundacion Federico SA, and by the Crafoord Foundation.
Authors' Affiliations
(1)
Department of Laboratory Medicine, Section for Clinical Chemistry, Lund University, Skåne University Hospital in Malmö, Malmö, Sweden
(2)
Clinical Protein Science & Imaging, Biomedical Center, Dept. of Measurement Technology and Industrial Electrical Engineering, Lund University, BMC C13, Lund, Sweden
(3)
Region Skåne R&D Center, Region Skåne, Lund, Sweden
(4)
Department of Oncology, Clinical Sciences, Lund University, Lund, Sweden
(5)
Region Skåne Biobank, Skåne University Hospital, Lund, Sweden
(6)
Thermo Fisher Scientific, Stafford House, Hemel Hempstead, UK
(7)
Thermo Fisher Scientific, Rochester, USA
(8)
Respiratory and Inflammation Therapy Area, Astra Zeneca R&D, Mölndal, Sweden
(9)
Department of Cardiology, Lund University, Skåne University Hospital, Lund, Sweden
(10)
First Department of Surgery, Tokyo Medical University, Tokyo, Japan
Copyright
© Malm et al.; licensee Springer. 2013
This article is published under license to BioMed Central Ltd. This is an Open Access article distributed under the terms of the Creative Commons Attribution License (http://creativecommons.org/licenses/by/2.0), which permits unrestricted use, distribution, and reproduction in any medium, provided the original work is properly cited.