Second generation tyrosine kinase inhibitors for the treatment of metastatic non-small-cell lung cancer
Translational Respiratory Medicine
2014
2:2
Received: 30 September 2013
Accepted: 26 December 2013
Published: 6 January 2014
Abstract
Backgruond
Since their first description, activating epidermal growth factor receptor (EGFR) mutations identify a distinct clinical entity of patients with non-small-cell lung cancer (NSCLC).
Findings
New targeted therapies for molecularly selected NSCLC are changing the natural history of the disease, with results superior to standard chemotherapy as demonstrated in large phase III studies with first generation EGFR tyrosine kinase inhibitors (TKIs) erlotinib and gefitinib. However, after an initial response, all patients inevitably progress and several mechanisms including a secondary mutation in exon 20 of the EGFR gene (T790M) or MET or HER2 amplifications are responsible for acquired resistance (AR). In clinical practice few options are available for patients with AR, and several new agents or strategies are currently under investigation, including second generation TKIs.
Conclusions
Aim of the present review is to present available data on new EGFR-TKIs and to discuss how these agents could overcome AR to erlotinib or gefitinib.
Keywords
AfatinibDacomitinibErlotinibNeratinibCO-1686AP26113BMS-690514XL647 EGFRNSCLC
Findings
In the last few years, the treatment of advanced non-small-cell lung cancer (NSCLC) has radically changed, due to advances in cancer biology. The old-fashioned 'one size fits all' chemotherapeutic approach is nowadays replaced by a careful selection mainly based on tumor histology and, most importantly, on biological characteristics. Specifically, the discovery of the biologic and therapeutic importance of acquired genetic alterations in two genes that encode pharmacologically targetable tyrosine kinases, the Epidermal Growth Factor Receptor (EGFR) and Anaplastic Lymphoma Kinase (ALK) has changed the way these cancers are treated.
In 2004,
EGFR
gene mutations were firstly identified: classical-activating
EGFR
mutations are localized in exon 19, mainly consisting of an in-frame deletion (45-50%), and in exon 21, consisting of the L858R point mutation (40-45%), even if there are less common mutations localized in other exons [
1
–
3
]. Since their identification, it was clear that
EGFR
mutations, more frequently observed in never smokers, adenocarcinoma histology, women and Asiatic patients, outline a distinct subgroup of NSCLC. During the last years, six phase III trials (Table
1
) established that patients harboring activating
EGFR
mutations benefit more from a first line treatment with an EGFR tyrosine kinase inhibitor (TKI), such as erlotinib or gefitinib, than from standard chemotherapy, at least in terms of response rate (RR), progression-free survival (PFS) and quality of life [
4
–
9
]. On the basis of these solid results, regulatory agencies have progressively approved EGFR-TKIs for the first line treatment of NSCLC harbouring activating
EGFR
mutations.
Table 1
First line trials of 1 st generation TKI in EGFR mutated patients
| Study | N | OR% | mPFS (mo) | mOS (mo) |
| --- | --- | --- | --- | --- |
| First Signal 4 | | | | |
| Gefitinib | 26 | 85 | 8 | 27.2 |
| Cis/Gem | 16 | 38 | 2.1 | 25.6 |
| IPASS 5 | | | | |
| Gefitinib | 132 | 71 | 9.5 | 19 |
| Carbo/Taxol | 129 | 47 | 6.5 | 18 |
| WJTOG 6 | | | | |
| Gefitinib | 86 | 62 | 9.2 | 30.9 |
| Cis/Doce | 86 | 31 | 6.3 | NR |
| NEJOG 7 | | | | |
| Gefitinib | 114 | 74 | 10.8 | 27.7 |
| Carbo/Taxol | 110 | 31 | 5.4 | 26.6 |
| OPTIMAL 8 | | | | |
| Erlotinib | 83 | 83 | 13.1 | NR |
| Carbo/Gem | 72 | 36 | 4.6 | NR |
| EURTAC 9 | | | | |
| Erlotinib | 86 | 58 | 9.7 | NR |
| Plat Doublet | 87 | 15 | 5.2 | NR |
Unfortunately, after a median of 8–10 months, all responding patients develop acquired resistance (AR) to EGFR-TKI therapy, with the inevitable consequence of disease progression. Recent studies demonstrated that several mechanisms are responsible for AR (Figure
1
), with approximately 30% of patients in which resistance factors are not yet identified [
10
]. The firstly described and the most common event responsible for resistance is the acquisition of the T790M missense mutation, which is found in ≈ 50% of patients progressing after an initial response to erlotinib or gefitinib [
11
,
12
]. Other less frequent mechanisms include secondary mutations within
EGFR
[
13
,
14
],
MET
amplification [
15
],
HER2
amplification [
16
,
17
], small cell histologic transformation [
18
]. Identification of mechanisms responsible for AR has therapeutic implications, and several agents are currently under investigation particularly for individuals with the secondary T790M mutation.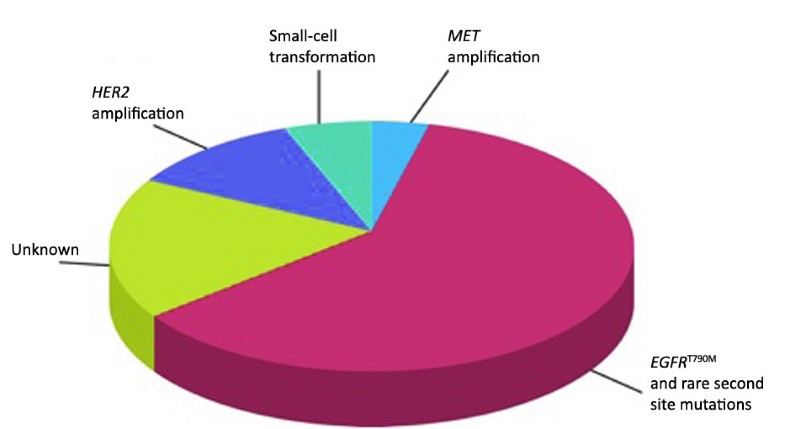 The family of 2nd generation TKIs exploit three basic approaches aimed at increasing the efficacy over first-generation EGFR-TKIs and overcoming the AR, such as intensification of EGFR inhibition, targeting a specific alteration of the EGFR downstreaming signaling and finally combining the EGFR plus alternate pathway inhibition. This review will discuss the mechanism of action, the available data and the future implications of second-generation EGFR-TKIs for the treatment of advanced NSCLC.
Conclusion
In the last years, the treatment of NSCLC has dramatically changed. Currently, the treatment's choice is based on a careful assessment of tumor histology and, most importantly, of biological characteristics, specifically of the EGFR and ALK status. EGFR mutations identify a distinct subgroup of NSCLC which benefit from a first line treatment with first generation EGFR-TKIs, as clearly evidenced by several phase III trials. Second generation TKIs are new agents currently under investigation with the intent to improve the efficacy in the first line setting and to provide a valid treatment option in the acquired resistance setting. New inhibitors such as dacomitinib and afatinib differ from first generation EGFR-TKIs because they form irreversible link to the EGFR kinase domain and inhibit other receptors (i.e. HER2 and HER4). The potential superiority of dacomitinib versus erlotinib in KRAS wild-type NSCLC is currently under investigation in a large phase III trial. Afatinib demonstrated superiority versus standard chemotherapy in two phase III studies and based on the results of the LUX LUNG 3 trial, Food and Drug Administration has recently approved the drug for the first-line treatment of patients with NSCLC whose tumors harbored EGFR exon 19 deletions or exon 21 (L858R) substitution mutations as detected by an FDA-approved test, specifically the therascreen EGFR RGQ PCR Kit (QIAGEN). Subsequently, the European Committee for Medicinal Products for Human Use (CHMP) adopted a positive opinion, recommending the granting of a marketing authorisation for afatinib.
From the clinical point of view there are many questions about new EGFR-TKIs including efficacy and toxicity over erlotinib or gefitinib. At the present time there is no phase III study directly comparing new versus old EGFR-TKIs. Based on indirect comparison it seems that new generation EGFR-TKIs produce a similar response rate to erlotinib or gefitinib with a possible improvement in terms of progression-free survival and with an increased risk of side effects particularly skin rash and diarrhea. Available data with afatinib in NSCLC with acquired resistance to erlotinib or gefitinib indicate that this agent is modestly effective in such setting and new drugs and new strategies are urgently needed.
Disclosure of potential conflicts of interest
The authors have no other relevant affiliations or financial involvement with any organization or entity with a financial interest in or financial conflict with the subject matter or materials discussed in the manuscript. No writing assistance was utilized in the production of this manuscript.
Authors' Affiliations
(1)
Medical Oncology Department, IstitutoToscanoTumori, OspedaleCivile, Livorno, Italy
Copyright
© Stasi and Cappuzzo; licensee Springer. 2014
This article is published under license to BioMed Central Ltd. This is an Open Access article distributed under the terms of the Creative Commons Attribution License (http://creativecommons.org/licenses/by/2.0), which permits unrestricted use, distribution, and reproduction in any medium, provided the original work is properly cited.